Samunnathi Scholarship 2020: Kerala State Welfare Corporation for Forwarding Communities provides the Samunnathi Scholarship 2020 to economically backward communities of forwarding Category. Vidya Samunnathi Scholarship is only provided to the candidates of General Category who belong to economically backward class. These candidates are not well supported financially and cannot apply to other Educational Schemes or Scholarship Schemes provided by the Government as they belong to General Category.
Samunnathi Scholarship 2020 Latest Update on 19th October 2020
 The last date for Online Submission  of  Vidyasamunnathi Coaching Assistance Scheme 2020-21 is extended up to 10/11/2020 
Eligibility Criteria of Samunnathi Scholarship 2020
Let us start with understanding what is Eligibility Criteria. These are a set of necessary qualification or characteristic that are required for the candidate to appear in the examination. There are several examinations conducted and many candidates want to apply and succeed in the examination. To maintain a basic level of candidature, the authoritative body decides onto certain qualification that is required to attempt the examination. These qualifications maintain a particular standard of language and knowledge of the examination. Following Eligibility Criteria must be fulfilled before filling the Samunnathi Scholarship Application Form 2020.
Applicants should be from the non-reservation forward community and a resident of Kerala.
The annual income of the family should be less than 2 lakhs based on all sources.
Applicants can select their centers for coaching, but the center's standard for the same will be decided by the corporation.
Applicants who applied for financial aid last year are not eligible for applying.
Applicants must have a Bank account in any recognized bank.
Vidya Samunnathi Scholarship – Eligible Candidates
High School
Higher Secondary
Graduation (Professional)
Graduation (Non-Professional)
NIT
Diploma
CA/CMA/CS
Samunnathi Scholarship | KSWCFC Scholarship 2020 | Application Form
Samunnathi Scholarship 2020 can be obtained by Applying with Samunnathi Scholarship Application Form 2020. The candidates who fulfill the eligibility criteria of KSWCFC Scholarship 2020 application can only apply for the Samunnathi Scholarship 2020. The candidates must check the official notifications and important instructions to apply for the KSWCFC Scholarship 2020. Follow the below – mentioned steps for Samunnathi Scholarship Apply Online.
Go to the official website of KSWCFC – kswcfc.org.
Read the Notification and Important Instructions before filling the application form.
Next click on the "Online Application link for Vidya Samunnathi Scholarship & Coaching Assistance" under latest news section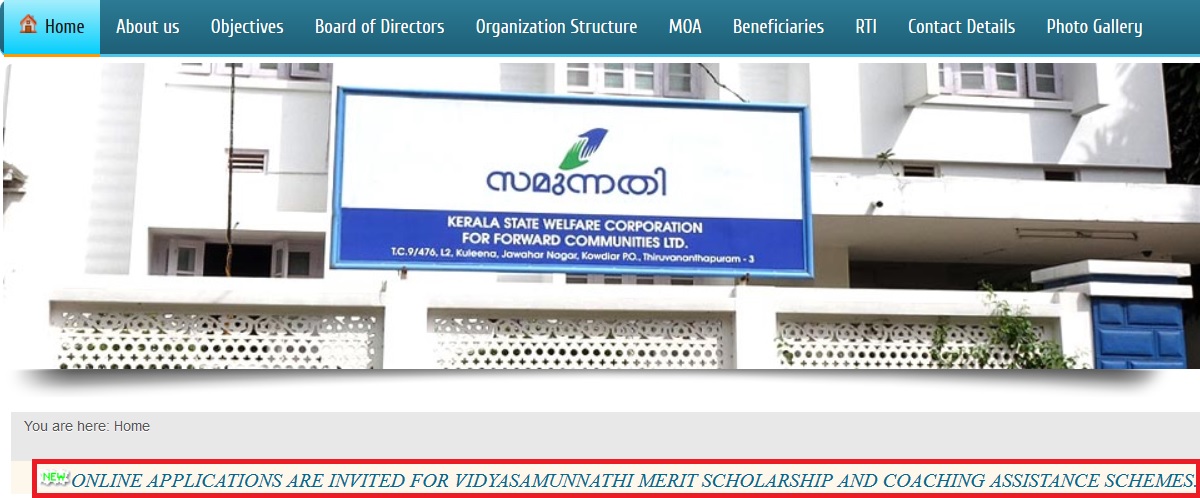 After that select your Coaching Assistance/Scholarship Application scheme under "Schemes 2020".
Read the instructions carefully before applying, then tick the declaration check box and click on the "Proceed" button
Already registered user Enter your Membership Number and Click on "Submit" button.
If you are a new user then click the link for databank registration and fill the required details to complete the registration.

Vidya Samunnathi Scholarship Application
National Institute Level
CA/ICWA/CS Level
Post Graduate Level
Graduate Level
Diploma Level
Higher Secondary Level
High School Level
Coaching Assistance Scheme
Medical/Engineering
PSC/BANK/UPSC/SSC
Civil Service Exam
Amount of 
Vidya Samunnathi Scholarship
Vidya Samunnathi Scholarship Amounts
| | |
| --- | --- |
| Vidya Samunnathi – Scholarships | Amount (p.a.) |
| High School Level | Rs. 2000 |
| Higher Secondary Level | Rs. 3000 |
| Graduation (Non-professional) | Rs. 5000 |
| Diploma/Certificate | Rs. 6000 |
| Post Graduation (Non-professional) | Rs. 6000 |
| Graduation (Professional) | Rs. 7000 |
| Post Graduation (Professional) | Rs. 8000 |
| CA/ICWA/CS | Rs. 10000 |
| National Institute | Rs. 50000 |
Samunnathi Scholarship 2020 | Documents Required
Following Documents must be submitted along with the Application Form:
Institution Certificate
Income Certificate (original) from the village office
Copy of Mark List of SSLC.
Copy of the First Page of Passbook in the name of the applicant
Copy of Aadhaar Card
Applicant must have a bank account in any recognized bank.
The Candidate needs to provide valid Email ID, Phone Number.
Password will be received on the Email ID sent from KSWCFC Authority.